At Active Chiropractic Healthcare, we take great pride in providing the finest chiropractic wellness care to our patients. Below is a sampling of the different chiropractic services we offer in our New York offices.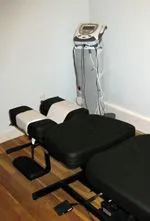 Chiropractic Care
We provide optimal spinal correction by focusing on the function and nutrition of spinal joints using chiropractic manipulative techniques that are specific for your condition. Dr. Bohné uses traditional spinal manipulation as well as non-force techniques such as
Sacro-Occipital Technique,
craniosacral therapy and
soft tissue prodecures.
In cases of disc problems and pinched nerves, different traction and physiotherapy procedures may be used. Chiropractic Wellness Treatment is designed to help you sustain your health through a combination of
adjustments,
spinal health education,
exercises,
nutritional care and
emotional support.
The ultimate goal is to optimize your nervous and immune system function and to provide you with a plan and the tools to manage the specific weaknesses you may need to support.Plus, it just feels good!!
---

Corrective Exercises
You can't correct your posture unless you really know how!!Posture education is a standard part of your care at Active Chiropractic Healthcare. Most often conditions arise as the result of deconditioning or prolonged joint and muscle imbalances that go unnoticed until too late. We teach our patients special posture correction exercises to help strengthen and correct their own unique problem., as well as addressing ergonomics and the everyday activities that may be contributing to the problem. These exercises can be performed in the comfort of your own home and can improve the effectiveness of your spinal correction.
For cases of traumatic injury, pinched nerves and more acute, painful conditions, exercises are initially performed with the goal of reducing pain and improving pain-free range of motion, Once this is achieved, we focus on stabilizing and strengthening the condition with different adjustments, exercise and home care. It is important that therapy progresses in this order, because in addition to skeletal misalignment, muscles and connective tissues can be out of place or strained by improper alignment. The body must heal so that the spine, muscles, ligaments, tendons and the nerves that allow them to all work together.are strengthened and healthy nerve pathways are re-established. Specific exercises and stretches can help your body stay in balance and in health after an injury is healed.
Scoliosis is a challenging yet fulfilling condition to treat. Most often patients are dismissed with their spinal deformity diagnosed as a cosmetic condition only. Chiropractic care can offer so much to a scoliosis patient in terms of understanding and managing their concerns and symptoms. Exercisies and adjustments specific to the type of curvature are employed to minimize the effects of the spinal and postural changes. Although there are few procedures that correct a scoliosis, there are many ways chiropractic can help you understand and manage this condition.
---

Lifestyle Advice
We often find it helpful to "coach" our patients on certain activities they should avoid or do differently to avoid aggravating their particular health challenge. Our goal is to help every patient achieve a fulfilling and happy lifestyle full of the activities they enjoy most. We recognize that each patient is a whole person, and we treat them that way!!
---

Nutritional Counseling
We provide specific recommendations on nutritional supplements and healthy food choices to enhance our patient´s return to optimal health. Do you know which supplements and vitamins are good for you? Do you know how these supplements and vitamins interact with one another? Dr. Bohné can provide a structured nutritional program based on your individual needs.
Many acute conditions can be managed with supplements that enhance and optimize your bady's own healing process without stressing other systems in the body as traditional medicines often do. Very often it is stress and sub-optimal nutrition that lead to the condition in the first place, so dealing with these aspects of a particular condition can actually help your body to heal rather than put a bandaid on it with traditional medications until the pain goes away. However, at Active Chiropractic Healthcare, we fully respect and acknowledge that traditional medicines are necessary and useful in many cases. We simply choose the natural approach to healing and preventing illness and are devoted to teaching you how to sustain your health, rather than need more invasive crisis management.
Some of the conditions that we address nutiritionally include acute injury/pain, stress and adrenal fatigue, PMS, estrogen/progesterone balance, digestive issues and general fatigue, However, we encourage healthy patients to maintain and optimize their health through diet and supplementation as well..
In our office we primarily recommend Metagenics supplements, as they are the leader in functional nutrition and nutritional research. However, we do recommend other products that meet our standards for nutritional care depending upon your health status and specific needs..
---

Massage Therapy
Massage therapy offers a natural conservative treatment approach that relieves musculoskeletal pain for many patients. The benefits of massage therapy may include increasing blood circulation, reducing swelling, relaxing muscles, relieving muscle pain and spasms, and aid in recovery and range of motion. When indicated, Dr. Bohné will incorporate medical massage procedures into your plan of care.
---

Spinal & Postural Screenings
Posture and spinal screenings can reveal important health information and unlock the door to improved health and well-being and should be incorporated as a part of your general health and wellness care!!. Feel free to contact us to arrange a screening at your event or workplace or simply to provide you with chiropractic educational materials for you to share with others.
We graciously appreciate your referrals and honor you for giving the gift of health to those you care about. It is a gift that can truly change someone's life. If you have a friend or family member that needs care, have them call us today to begin their journey toward wellness!